Full M O O N in Cap : Harvest Time | A Native Healing Retreat + Yoga & Surf in November.
July 7th, 2017, Issue #33
Capricornio es la esencia de la organizacion y de los logros terrenales asi mismo como la disciplina que todos necesitamos para lograr aquellas cosas que tanto deseamos.  Lo lindo e intenso de esta luna llena es que se postra en el signo de Cancer, que es todo sobre los sentimientos y sentirnos nutridos por lo que nos hace sentir bien. Mas sin embrago, Capricornio nos hace esforzarnos por no quedarnos en esa zona de confort (comer emocionalmente, sabotaje propio o entumecimiento con sustancias) y mas que nunca dejar atrás esos miedos a brillar porque baby, tu eres una estrella fugaz.
Capricorn is the essence of the organization and the earthly achievements as well as the discipline that we all need to achieve those things we so much desire. The beautiful and intense aspect of this full moon is that it prostrates itself in the sign of Cancer, which is all about feelings and getting nourished by what makes us feel good. But still, Capricorn makes us strive not to stay in that comfort zone (emotional eating, self-sabotage or numbing yourself) and more than never leave behind those fears to shine because baby, you are a firework.
The Stars this Week:

Capricorn Full Moon: Embrace your power !

¨Neptune is in a positive energy flow with both lights (the Sun and the Moon.) He is in a closer proximity than Pluto is to the Full Moon. This provides Neptune more strength to influence this Moon. Neptune is offering you a way out from the intensity that Pluto may generate. Be creative. Dream big. Wherever Capricorn lands in your natal birth chart is where this Full Moon is happening for you. Watch out for the dark side of Pluto. That is power struggles and power plays. Manipulation and hidden agendas. These can get in the way of healthy relationships. Avoid negative people like the plague.

Guilt means you are going in the right direction. Guilt is your soul prompting you to do something. Play hooky from work. Have a fun day at the park. Goof off just for the Joy of it. Do something fun. Cancer encourages you to nourish your soul's desires. Do what is comforting. Do what feeds your soul. Cancer is the cosmic child. You are a timeless. Your soul is immortal. You are not your relationships. You are not your work. You are a great spiritual being. You are powerful creator. Use this Full Moon to create what you desire. Eliminate what no longer serves your soul. Dream on."
Our Mantra Today

Solar Plexus CHAKRA:

"Being happy is the cornerstone of all that you are! Nothing is more important than that you feel good! And you have absolute and utter control about that because you can choose the thought that makes you worry or the thought that makes you happy; the things that thrill you, or the things that worry you. You have the choice in every moment." — Abraham

–

#SPIRITUAL wisdom:

By Guru Jagat

How Kundalini Can Re-Shape you Physically too !

Beauty, vitality and anti-aging are not external processes. True beauty and anti-aging is rooted in knowing how to access and activate your own human system to work efficiently, without stress and strain, and with intelligence. This experience is at the foundation of the yogic science I've devoted my life to called Kundalini yoga and meditation.

Kundalini is science of the body (actually 10 bodies), mind and total life experience. It's like an owner's manual for human living, something many of us never received. Kundalini Yoga is also in my opinion, the top health and beauty technology—beauty from the INSIDE out— available today and likely for the next 5,000 years. Why?
How to lose weight
by simply organizing your
kitchen 🙂
A Great Practice for Full Moon Periods is to lighten up our DIET. Why ? Because the moon affects the water in our bodies just like it does on mamma earth, yes. So, as she is working on our fluids, things get pretty intense. As we keep our diet light, we become lighter by also doing our inner work of letting go.
I love to have healthy options around my kitchen and even in my bag if I find myself moving a lot (SO ME).
Here an amazing Granola option that is Guilt Free and that might truly change the way you feel, think and act around yourself.
Let's talk about store-bought granola for a second, shall we?

Yes, it's delicious.

Yes, it's crunchy.

And yes, it's often (totally unnecessarily) loaded with refined sugar.

Womp womp.

But here's the good news! We've come up with a homemade granola that is just as delicious, crunchy, and clustery as its store-bought counterpart. The best part is, it is sweetened with just one, all-natural ingredient: bananas! That's right. No refined sugar or even honey is needed for this deliciousness.

I highly recommend baking up a batch of this Banana Coconut Granola at the beginning of the week and dividing it into containers for munching on throughout the week. You can serve it with almond milk, oatmeal, with berries in a yogurt parfait or even on its own.
Banana Coconut Granola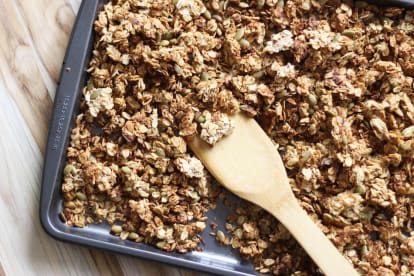 Serves 6
Ingredients
2 cups gluten-free rolled oats
1 cup unsweetened coconut flakes
½ cup pumpkin seeds
½ teaspoon cinnamon
¼ teaspoon sea salt
1 ripe banana, mashed
2 tablespoons coconut oil, melted
Mehtod
Preheat oven to 300°F.
In a large bowl, combine the oats, coconut flakes, pumpkin seeds, cinnamon, and sea salt.
Add the mashed banana and coconut oil into the bowl with the oat mixture. Use a spoon to mix ingredients until evenly distributed.
Spread mixture in an even layer on a large baking sheet. Press down slightly and place in oven.
Bake for 45 to 55 minutes, checking and tossing every 15 minutes. Break up large clusters if necessary. Once the granola is evenly browned and no longer feels damp, remove from oven. (Note: As it cools it will crisp up even more, so do not over-bake.)
Once cooled completely, store in an airtight container at room temperature up to one week, or store in the freezer for a few months.
Yoga & Surf TRIPIN'
Venao. Noviembre. 2017
"In Vedic astrology, the Full Moon in Capricorn ushers in an opportunity to embrace concepts of unity and Universal love"
— Eve James
Body and Mind : A Practice to Control your Anxiety

Sometimes our bodies are all we can think about: how much they weigh, how hungry they are, the pains and aches they're experiencing. Other times, we forget about them altogether, allowing them to just go through the motions of life while we live in our minds. When I find myself in either of these situations, I like to remember Tsoknyi Rinpoche's practice to drop into your body and feelings — a simple practice that quickly bridges the divide between mind and body.
A f u l l  moon ☽ ritual for Sunday night
Crystal Healing
I loved this Grid to work on this powerful Full Moon. Why ? Because we all have crystals in our systems, we are made of star dust too. Crystals like Clear Quartz are found inside our medula and they work like amplifiers of anything we do. That is why, we like to work with intentions because anything we focus on will eventually grow and manifest.
This Crystal Grid was made for last year's full moon, but it works wonders with this one too as they both serve the purpose to heal and balance our power and manifestation▽.
﹋﹌♂♀ ♥♡☜☞☎ ☏⊙◎☺☻
Read More and Get to Excercise This Tonight
⤛ ⤜⤛ ⤜⤛ ⤜⤛ ⤜⤛ ⤜
We took the best articles and tools here for you so that you can take advantage in the best way of this great period.
N A M A S T E,
The Yorepa Team
Music for Daily Rituals

¨Music in the Soul can be heard by the Universe¨
Lao Tzu

Fell in love with this playlist. HEaling Sounds like Water but also powerful and motivating as Shiva OM, remmeber who you are, remember who you are, truly you are made from STARS…